For me, reading about Jersey Shore in The New York Times, legitimized its legacy – however fleeting it may or may not prove to be – in pop culture history. Printed in the same section as a savory article dished out by one of New York's, and perhaps the country's, most respected authorities on culture and fine dining, its appearance in the Times exemplifies how the distasteful show has become a sort of amuse-bouche fit for all (or most) postmodern palates.
Amuse-bouche, bite-size hors d'oeurves, are presented to restaurant patrons prior to the appetizer. These are not ordered from a menu but are rather hand crafted by the chef as a poignant prelude to the meal. Often paired with wine, amuse-bouche serve as an introduction or allusion to the style of the chef. It gained popularity in the Nouvelle Cuisine movement, which is defined by smaller courses of bold character.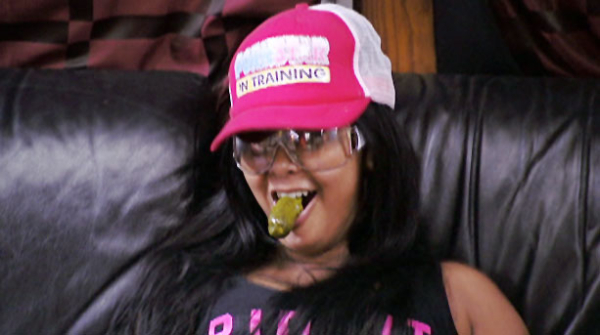 Similarly, Jersey Shore is marked by small courses (or story lines or people) and bold character(s), i.e. Snookie. It may also serve as a prologue to a new movement in the reality television menu – one that satisfies a hunger only unlimited bread sticks at Olive Garden could fill.
Chuck Klosterman defines post-modernity, naturally in relation to The Real World, as any "art that is conscious of the fact that it is, in fact, product." The Shore-goers are most certainly aware of the roles they are playing, as evidenced by an internet spoof in which Paulie, Snookie, and "Michael" turn it off. And they are capitalizing on their newfound popularity with skits on late night shows, interviews with national magazines, and public appearances.
Jersey Shore, with its spicy, saucy, sausage-y Italian cast reflects a new flavor and consequent departure from The Real World's pre-fab seasoned ingredients who Klosterman identifies as "The Angry Black Militant", "The Gay One", "The Naive Virginal Southerner Who's Vaguely Foxy", and so on. That's not to say that Jersey Shore's cast isn't made out to be one-dimensional, but the deviation is also in the branding of a mainstream, singular race, middle class, Guido identity. Sure there are "reality" shows about wealthy white women in Orange County or sassy black college kids at various historically black colleges, but for me part of the appeal of Jersey Shore is its accessibility. I mean, not only can you get to the shore from Manhattan in a little over an hour and maybe mingle with Sammi Sweetheart (not that anyone would want to), but somehow I feel like with just a little tanning and a little hair spray I could more readily have a conversation with The Situation than I could with anyone in the aforementioned casts. The quality may be akin to The Macaroni Grill, but it's much more approachable than Per Se and slightly more stomach-able than Popeye's – though perhaps greasier.
So maybe we can look forward to a rapid departure from the bleached, botoxed, white-washed vapidity of The Hills (a show ultimately about chewing), The City, Laguna Beach, The Real Housewives of whatever city, etc and the arrival of a new genre of Re-TV that just isn't quite as trashy as Rock of Love. The appetite and thirst for reality shows may not be quenched any time soon, and although the outlook looks slightly orange, I'm looking forward to the next course.
Lady Dada can be reached at LadyDada@GDPmagazine.com.